Sailing CV
I have sailed, mainly racing, over many years and having worked in boat-building, rig-building and sail-making I know my way around the technical side of yachting.
Most of what I know about racing boats I learned from Phil Morrison when I was fortunate enough to work for the greatest living British dinghy designer for three years over 1977-1979.
Siblyback Sailing Club, Cornwall
1969-1975
1970 Otter 196 (skipper)
1973 Scorpion 872 (skipper)
1973 Cruise around the Orkneys on the Gordonstoun School Yacht "Sea Spirit"
1975 Plymouth Sailing School (Sailing Instructor)
1975 Various channel yacht races as crew
Boat builder: South East Boat-builders, Beckley, Rye, Sussex
Bexhill Sailing Club, Sussex
1976
1977 Scorpion 1675 [self-built] (skipper)
Sailmaker: Morrison Sails, Polegate, Sussex
Pevensey Bay Sailing Club
1977-1979
1977 Merlin Rocket Inland Championship 1st (crew for Phil Morrison)
1977 Scorpion Nationals Plymouth - Winner Chapman Quart (helm)
1978 Merlin Rocket Nationals 6th (crew for Bill Twine)
1978 Fireball Nationals Felixstow (crew for Phil Morrison)
1978 Scorpion Nationals Hythe 2nd (crew for Phil Morrison)
1978 Albacore Worlds Torbay (crew for Sam Bott)
Rig builder: Racing Sailboats, Battersea, London
Ranelagh Sailing Club, Putney, London
1979-1982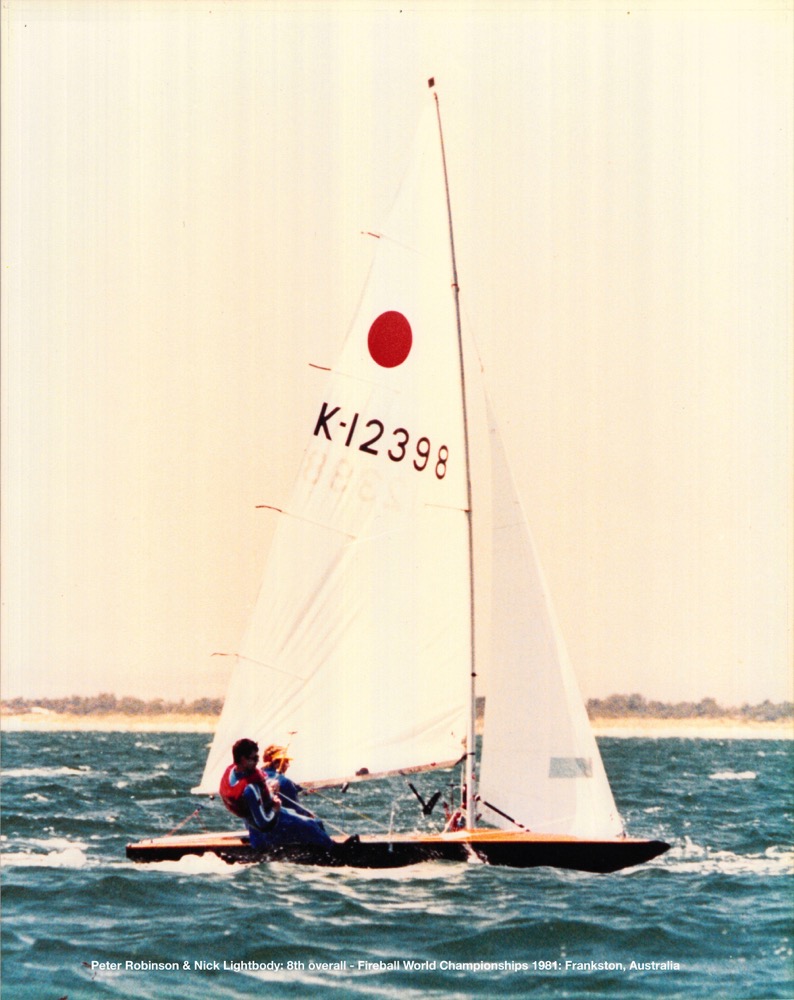 1979 National 12 Burton Week Whitstable - Marmite Soldier [self-built](skipper)
1979 Fireball Nationals Penzance (skipper)
1981 Fireball Nationals Thorpe bay(crew for Peter Robinson)
1982 Fireball Worlds Frankston 8th (crew for Peter Robinson)
1981 470 (crew for Peter Robinson) British Olympic Training Squad
1982 Thai National Sailing Team (National Coach)
1982 Naivasha Sailing Club Kenya (Racing Coach)
Trainee Solicitor, London
Law Society Yacht Club
1983-1987
1983 Naivasha Sailing Club Kenya (Racing Coach)
1983 Fireball Europeans Le Val Andre (crew for Mark Saville)
1984 Fireball Worlds San Francisco (crew for Mark Saville)
Solicitor, London & Sussex
Law Society Yacht Club
1987-1999
Law Society Yacht Club 1990-2000 (Treasurer then Commodore)
1990 Yacht Master Offshore Theory
1991 Scorpion Nationals Porthpean (skipper)
1993 J24 Worlds Abersoch (crew for Nick Whipp)
1988 - 2004 Air Canada, Turner & Newell Industry Sailing Challenge: skippering numerous entries from Hobson Audley Solicitors and The Law Society Yacht Club as well as various Law Society Yacht Club Events; training members and colleagues to yacht race.
Business consultant & administrator, Sussex
1999 - 2017
2001 Scorpion Nationals 1st Old Boats (skipper)
2002 First Class 8 - Round the Island Race: Unrated Class D 1st (skipper)
2004 LSYC v Bar Yacht Club at Cowes in Sonars 1st (skipper)
2016 Seaview YC Team Racing in Mermaids (skipper)
2016 Odysseus Sailing Charter: "Dione" Odysseus 44: 7 day Ionian Cruise (skipper)
2017 Seaview YC Team Racing in Mermaids (skipper)- Team placed 2nd overall
2019 Dufour 390: Lefkas Town: 7 day Ionian Cruise (skipper)
Educational Administrator, Cambridge
2017 - 2019
Virological Intelligence, Cambridge Startup
2020 - 2021
Deskspace Corporation
2021
2019 Renovating Scorpion 1759 after 18 years in a rat infested garage, competing in the Scorpion Diamond Jubilee National Championships in Penzance, August 2021.
2022 Renovating Scorpion 1929 (the very first Gosling Scorpion) and competing in the Scorpion National Championships at Looe SC, Cornwall.